Corporate Training
Supporting you to support your people
Corporate Training
Supporting you to support your people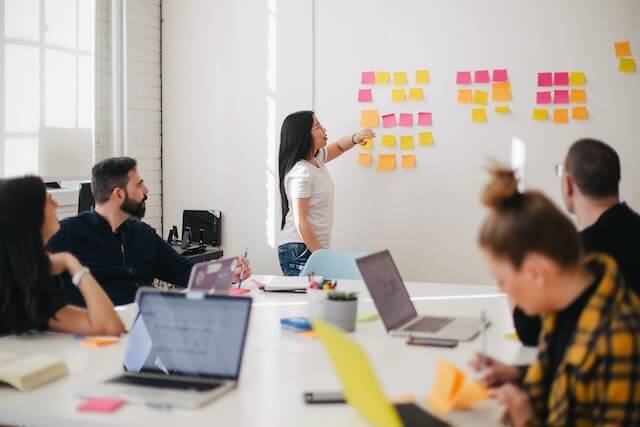 #BreakTheCycle
Corporate Training Packages at Nexus
At Nexus, we offer a suite of Corporate Training that we will work with you to tailor to your needs. We can help you comply with legislation, take preventative action against, and gain more awareness of, sexual abuse and abusive relationships and the impact they can have on employees and the workplace.
We will also help you to develop specific workplace policies which comply with existing and upcoming legislation. This will enable you to foster a supportive environment and to effectively support staff who have been impacted by sexual abuse or abusive relationships, in or outside the workplace.
Sexual abuse and abusive relationships impact everyone, regardless of gender or background. By partnering with us, you're playing your part to #BreakTheCycle of sexual abuse and abusive relationships in our society.
Why Choose Us: 
We are committed to the well-being of your employees and the success of your organisation. We understand that addressing issues related to sexual abuse and abusive relationships can be challenging, but we are here to support you every step of the way. By working together, we can create a workplace culture that is safe, supportive, and inclusive. 
If your organisation is dedicated to the welfare of your employees and recognises the importance of taking action to prevent sexual abuse and abusive relationships, we are here to assist you. Together, we can ensure your people are supported to lead safe, healthy, and fulfilling professional lives. 
Sexual Harassment in the Workplace
Sexual harassment in the workplace is a critical issue that can have profound consequences for both employees and organisations. To address this concern and create a safe and respectful work environment, more and more companies are partnering with experts in the field to develop and deliver training programmes aimed at raising awareness of sexual harassment and its impact. These programmes play a crucial role in educating employees, fostering a culture of respect, and preventing harassment incidents from occurring. 
At the heart of our corporate training on sexual harassment is the recognition that sexual harassment can have far-reaching consequences. It not only affects the individuals directly involved but also has a significant impact on staff morale, productivity, and overall workplace dynamics. Therefore, our comprehensive training session is designed to tackle this issue head-on, empowering you and your employees with the knowledge and tools to address and prevent sexual harassment.
Key components of our Sexual Harassment in the Workplace awareness training include:
Awareness Building
We aim to increase awareness among employees about what constitutes sexual harassment, including both overt and subtle forms of harassment. By providing real-life examples and scenarios, your employees will gain a better understanding of the behaviors that are unacceptable and damaging.
Impact on Staff and Workplace
A crucial aspect of our training is highlighting the detrimental impact of sexual harassment on individuals and the workplace.  Through case studies and testimonials, you will learn about the emotional, psychological, and professional consequences that people impacted by harassment may endure.
Legal Framework
Our training covers the legal aspects of sexual harassment, including laws and regulations relevant to Northern Ireland. Understanding the legal framework is vital for both employees and organisations to ensure compliance and take appropriate action when incidents occur.
Reporting Mechanisms
Companies often provide information about how to report incidents of sexual harassment confidentially and without fear of retaliation. Having clear reporting mechanisms in place is essential to empower employees to come forward with their concerns. We will help you to develop and implement these mechanisms, supporting you to support your people.
Preventative Measures
We are passionate about the importance of taking steps to prevent sexual harassment happening in the first place. This includes educating employees on respectful behavior, effective communication, and establishing a culture of inclusivity and diversity.
Cultural Shift
Ultimately, our training session aims to create a cultural shift within organisations. We strive to enable you to foster a workplace environment where all employees feel respected, safe, and empowered to speak up against harassment.
Handling Disclosures
This session aims to increase awareness of sexual abuse and abusive relationships and how they can impact staff and their families, their performance at work, and their physical and emotional wellbeing.  We aim to increase your confidence and assurance on how to respond to disclosures within your role and how best to support employees who are impacted by sexual abuse and abusive relationships. All our training is conducted in a sensitive and non-judgmental manner, emphasising the importance of confidentiality and support for survivors of abuse.  
We aim to equip employees and managers with the knowledge and skills to effectively handle disclosures of sexual abuse and abusive relationships in the workplace, creating a safe and supportive environment for all employees.
This training will aim to increase: 
Understanding of what domestic and sexual abuse is

Knowledge of coercive control and the cycle and pattern of abuse

Recognition of the indicators of abuse

Knowledge of what may trigger disclosure

Awareness of Trauma in the context of abuse and how it presents

Understanding of how to create the conditions for disclosure

Confidence in how to appropriately respond to a disclosure

Awareness of risk and safety planning

Incre

ase knowledge of responsibilities, referring and signposting for support

 

Discuss the role of a supportive workplace in addressing abuse

 

Strategies for fostering a safe and inclusive environment

 
This session will include:
Learning to Respond to Disclosures
We will empower you to develop your knowledge and skills in the following areas:
Approaching someone who discloses abuse

 

Practicing active listening

Empathy and providing emotional support

 

Maintaining confidentiality

 
Scenario-Based Learning
Our scenario-based approach will include:
Interactive exercises to practice responding to disclosures

 

Group discussions on different scenarios

 
Bystander

Intervention
The objective of our Bystander Intervention training is to empower employees with the knowledge and skills to safely and effectively intervene in situations where they witness inappropriate behaviour or harassment in the workplace. By becoming active bystanders, employees can contribute to creating a safer, more respectful, and inclusive work environment.
In this training session we will cover:
The definition of bystander intervention

The importance of bystander intervention in the workplace and in wider society

 

The bystander effect and its implications

 

Types of inappropriate behaviour

Identifying common forms of inappropriate behaviour, including harassment, discrimination, and bullying

 

Recognising the signs and consequences of such behaviour

 

Barriers to intervention

The 5 Ds of Bystander Intervention

Real-life scenarios

Discussing the importance of reporting incidents to HR or appropriate channels

 

Discussion of information, resources and support outside of your organisation
Post-Training Support
By the end of this training, employees should feel more confident in their ability to intervene effectively when they witness inappropriate behavior in the workplace, ultimately contributing to a safer and more respectful work environment.
However, we are committed to providing holistic support to the organisations we work with, so after your session we will:
Provide ongoing resources, materials, and contact information for assistance

 

Encourage employees to share their success stories or challenges faced when intervening

 

Offer periodic follow-up sessions or refreshers on bystander intervention

 
Developing Robust Workplace Policies 
We are dedicated to providing vital support and guidance to organisations seeking to create safe and inclusive workplaces. We understand the critical importance of developing robust workplace policies that address sensitive issues such as sexual abuse and abusive relationships. Our mission with this is simple: "Supporting you to support your people." We offer expertise, resources, and compassionate assistance to help your organisation navigate the complexities of these issues and establish policies that prioritise the wellbeing and safety of your employees. 
In today's world, organisations must recognize that issues like sexual abuse and abusive relationships can have a profound impact on their workforce. The creation of comprehensive and well-defined workplace policies is not just a legal requirement but also a moral and ethical obligation. These policies serve as a foundation for fostering a culture of safety, respect, and support within your organisation. 
We are committed to assisting your organisation in the development of workplace policies that address sexual abuse and abusive relationships effectively. Here's an overview of what we can provide: 
Expert Guidance
Our team of experienced professionals understands the complexities of these sensitive issues. We provide expert guidance tailored to your organisation's unique needs, ensuring that your policies are informed by best practices and legal requirements.
Policy Development
We work closely with you to craft clear, comprehensive, and legally sound workplace policies. These policies encompass prevention, reporting procedures, support mechanisms, and consequences for violations.
Training & Education
Policies alone are not enough. We offer training programs to educate your staff on the importance of these policies, how to recognise warning signs, and how to respond effectively. Empowering employees with knowledge is a key aspect of prevention.
Creating a Supportive Environment
Our approach goes beyond policies and training. We help organisations establish a supportive environment where victims feel safe coming forward, and where bystanders are encouraged to intervene when necessary.
Confidentiality and Reporting
We assist in developing reporting mechanisms that prioritise confidentiality and protect those who report abuse. Trust is essential in creating an environment where individuals feel comfortable seeking help.
Resources and Partnerships
We connect organisations with valuable resources and partnerships, including local support services and experts in the field of abuse prevention and survivor support.
We are committed to supporting you support your people
If your organisation is committed to fostering respectful and ethical behaviour, we are here to help. Our corporate training sessions are tailored to your organisation's needs and are designed to empower individuals and organisations, ultimately contributing to healthier, more respectful, and more inclusive workplace dynamics. 
Interested in supporting our work?
There are many ways you can support us to achieve our vision of a society free from sexual abuse and abusive relationships. One way to do this is by developing an ongoing corporate partnership with us. By doing so, your organisation can help us achieve our mission and change the lives of people impacted by sexual abuse and abusive relationships.